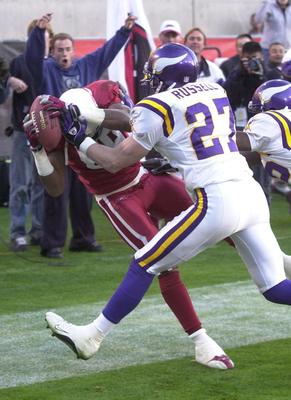 http://cdn.bleacherreport.net/images_root/slides/photos/000/154/501/W13natepoole
Nate Poole. Ask any Vikings fan who lived through the Mike Tice era and this name undoubtedly leaves a bad taste in their mouth.
The 2003 Minnesota Vikings started 6-0 and led the NFC North for the entire season until the last seconds of their season finale against the 4-12 Arizona Cardinals. That fateful moment happened to be a 4th and 28 where Cardinals QB Josh McCown broke contain and found WR Nate Poole in the back of the endzone for the game winning touchdown as time expired. The loss knocked the Vikings out of the playoffs and capped off a 3-7 slide that saw the team become only the second ever to start 6-0 and miss the playoffs.
Poole, then a 2nd year wideout from Marshall caught only 13 passes that season and the backbreaking TD against the Vikes was his first. He went on to play only two more seasons in the NFL catching only 8 more passes.
The Vikings loss gave the 2003 NFC North crown and playoff spot to the hated Green Bay Packers who as any good rival should rubbed salt in the Purple's wounds by inviting Poole to enjoy their 1st rd playoff game in a box suite at Lambeau and gave him a key to their city. The Pack beat the Seattle Seahawks in the infamous Matt Hasselback "we'll take the ball and we're gonna score" game and lost to the Philadelphia Eagles in the Divisional Round the following week.
While Poole's NFL shelf life was brief he will be forever remembered in the minds of Minnesota Vikings fans everywhere as the man who single-handily ended the 2003 Vikings season and gave birth to this famous call by Vikings announcer Paul Allen. Kudos to
fro30
for immortalizing the call via Tecmo Super Bowl.