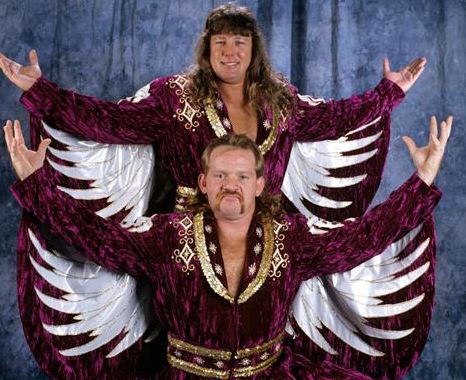 The 1992-94 era of pro wrestling was forgettable in many respects. Unless you loved terrible gimmicks and bland story lines. Then this era was your cup of tea. It was during this era that both WCW and WWF agreed to deals with Jim Cornette's Smokey Mountain Wrestling to allow members of the SMW appear at their pay-per-views. Two such members were "Doctor" Tom Pritchard and "Gigolo" Jimmy Del Ray. Together they formed the tag team known as the Heavenly Bodies. Cornette proved his worth as a salesman getting PPV matches for two guys that resembled registered sex offenders and wore fake angel wings to the ring.
Del Ray wearing angel wings and rubbing his fat belly.
In 1993 the Bodies appeared at WCW's Superbrawl III against fellow SMW tag team, the Rock N Roll Express. Later that year they had a run in WWF, losing to the Steiner Brothers at SummerSlam 93 and then defeating the Rock N Roll Express at Survivor Series 93 as part of another inter-promotional match with SMW.
Sadly, with the collapse of the SMW in 1995 the Heavenly Bodies would disband. Pritchard returned to the WWF as Zip of the Bodydonnas tag team while Del Ray continued to wrestle independently.
"Doctor" Tom sure traded up...
We leave you with this treat of a match that pretty much signified the WWF of the early to mid 90s. The Heavenly Bodies vs. 123 Kid and Aldo Montoya.