The 1980s brought us many things. Some good, some bad. But it may have been the golden era in terms of sports posters. Remember some of these gems that you had hanging on your bedroom walls or wish that you did? Many of these were the work of John and Tock Costacos and they were on display earlier this year in Los Angeles as part of a larger
art exhibit.
http://moneydick.com/wp-content/uploads/2012/02/180847741256349779_mp3zI4qF_c.jpg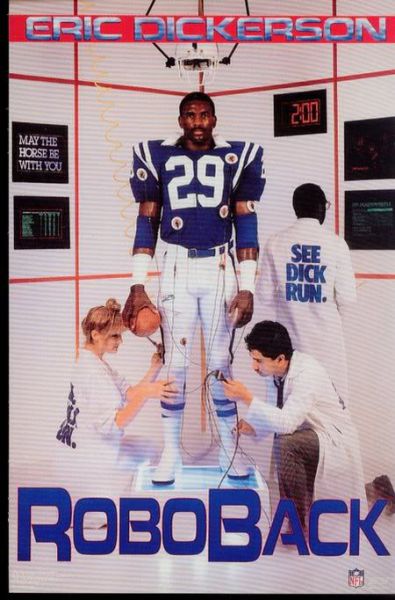 Whomever designed that lab coat wasn't thinking ahead...
http://www.thedonutproject.com/wp-content/uploads/2012/01/80ssportsposters_1-600x440.jpg
http://lifeandtimes.com/wp-content/uploads/2011/06/Patrick-Ewing-Madison-Square-Guardiancopylifeandtimes.jpg
This one looks almost too romance novelish for me.
Probably the pinnacle of Majkowski's career.
http://i.cdn.turner.com/si/multimedia/photo_gallery/1106/posters.salon94.exhibit/images/kevin-mitchell.jpg
http://lobshots.files.wordpress.com/2011/06/80kirk-gibson.jpg
I'm sure this went over well in the Bengals locker room.
http://i.cdn.turner.com/si/multimedia/photo_gallery/1106/posters.salon94.exhibit/images/ronnie-lott.jpg